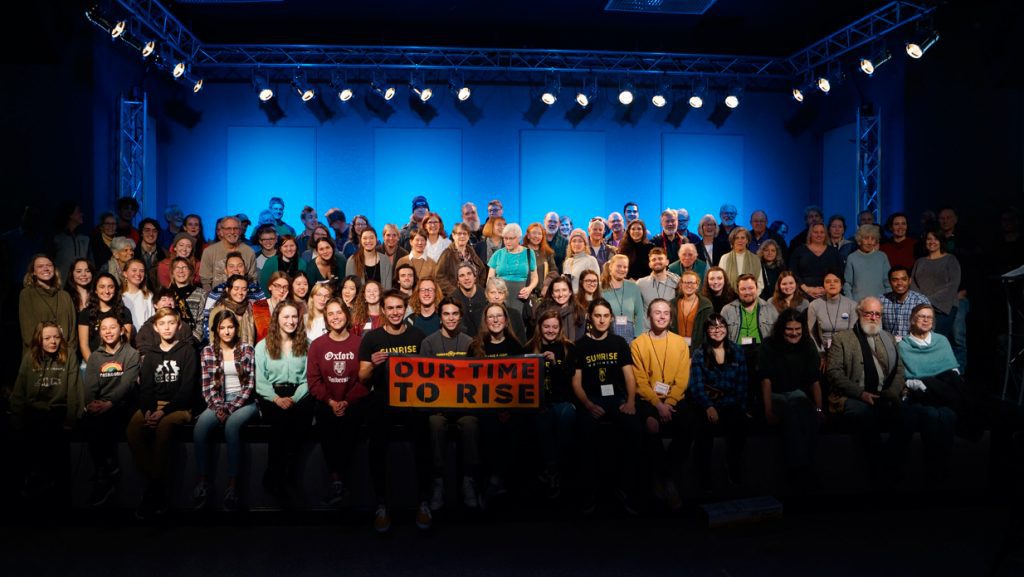 The Blue Ridge Alliance for Clean Energy started as a group of local and regional organizations that shared concerns about how local electric utilities in the North Carolina High Country have barely begun the rapid transition to clean energy that is imperative to address the climate crisis.
In February, 2020, BRACE hosted the High Country Energy Justice Summit, an event that brought together community members from Boone, N.C., and the surrounding areas for an intergenerational discussion about our local and state utilities, as well as the Green New Deal. At the Summit, BRACE collected input from local rate-payers and other community members about their vision for energy democracy. BRACE will be using the results to help the High Country work towards making these goals for our energy system a reality.
Problems within the High Country Energy System
Currently, local utilities in the High Country purchase their electricity from Duke Energy, the largest energy monopoly in the state, which relies primarily on coal, natural gas and nuclear power for generating electricity. As a result, very little of the energy consumed in the High Country is produced from clean sources like wind and solar.
Blue Ridge Electric Membership Corporation (BREMCO) provides power to much of the High Country, including Watauga, Ashe, Wilkes and Alleghany Counties. As North Carolina seeks to transition away from fossil fuels and develop a strong renewable energy economy, BREMCO is making this transition more difficult by charging exorbitant fees on homeowners who generate their own electricity through solar and other renewable energy sources.
In fact, BREMCO was recently highlighted by the Southern Environmental Law Center's 2018 "Rates of Solar" report for having one of the worst policies in the entire Southeast for solar. In short, BREMCO's fees for rooftop solar are so high that residents who install their own solar pay almost as much to BREMCO in extra fees over 20 years as it costs to install the solar system itself! This makes solar cost-ineffective, which deters members of BREMCO from installing solar for their homes.
The town of Boone is served by New River Light and Power (NRLP), a local utility in owned and operated by Appalachian State University, making it the only state-owned public utility in NC. Currently, New River purchases electricity from BREMCO, who purchases from Duke Energy. Therefore, folks in New River territory indirectly get their energy from Duke Energy.
In 2022, New River Light and Power's contract with BREMCO will end and a new contract with an independent power producer based out of Texas, NTE Energy, begins. NTE Energy will provide New River options for purchased solar energy, which would be received as a mix through the electric grid. However, the amount of solar that New River would purchase is unclear and the utility has thus far been unwilling to share the details of its contract with students and local residents.
The bottom line
Both BREMCO and New River Light and Power use billing policies that prevent home and business owners from enjoying the benefits of cost-effective, homegrown solar energy, and also undermine opportunities to develop a job-creating solar industry in the High Country.
Discussions at the recent High Country Energy Justice Summit demonstrated that local residents view Blue Ridge Energy Membership Corporation and New River Light and Power as non-transparent institutions that are failing to take the climate crisis seriously. One of the main goals of the Blue Ridge Alliance for Clean Energy is to increase community participation in the decision-making process, to ensure that rates and policies will be fair, and to guarantee that community needs are met.
Building a Movement for High Country Energy Democracy
Energy democracy is about bringing power back into peoples' hands. Literally.
Regular people should have a say in where our energy comes from, how it is sourced, and how rates are structured. With Energy Democracy, clean energy like solar should be top priority and rates should ideally increase solar affordability and cost-effectiveness for everyone.
The energy democracy movement is the start of something greater than holding utilities accountable. It is a way for us to come together as communities, strengthen those connections, and work towards democracy in all aspects.
Using the results of survey input from the High Country Energy Justice Summit, the Blue Ridge Alliance for Clean Energy will start to define a campaign for energy democracy in the High Country.
Here's what we need from you: Strong community involvement (from both individuals and organizations) to hold our local utilities accountable to the rapid transition to renewable energy that is required to avert catastrophic climate change, as well as to ensure they make that transition in a way that benefits everyone, not just a few.