Access to water and electricity are fundamental for people's physical and mental health, especially during a pandemic when many families are required to stay at home. Not only do water and electricity help people stay healthy and safe, but preventing utility shutoffs can actually slow the spread of Covid-19!
Despite the public health crisis, many southern utilities are continuing to shut off people's utilities even as Covid cases are increasing and millions of families are struggling to pay their bills. Black and Brown households are six to 15 times more likely than their white counterparts to have had their utilities disconnected during the pandemic, exacerbating inequalities.
In response, people across the south are demanding that state leaders keep utilities on during the crisis for all people, regardless of their ability to pay. Keep reading to learn about shutoff policies in North Carolina, Tennessee and Virginia, and how you can protect families from utility shutoffs in the months ahead.
MAP DETAILS: Electric utility service areas are shown in red if they are currently shutting off customers' power for non-payment or in green if there are voluntary utility actions or state policies that prevent them from shutting off power during the Covid crisis.
Note: we are currently only tracking Tennessee, North Carolina and Virginia utilities, but if your organization would be interested in tracking policies in other southern states, we would love to include you in the Energy Democracy Y'all partnership and add your state's utilities to the map!
JUMP TO: North Carolina | Tennessee | Virginia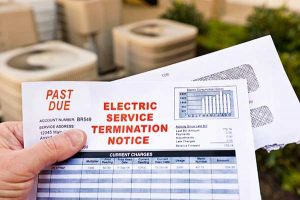 Tell Us YOUR Covid Story!
If you have lost or are in danger of losing water, electric or gas services because your utility is still doing shutoffs, help us by sharing your story. Your experience can help us demonstrate to elected officials how the pandemic and economic crisis are impacting these critical services and work to keep the power and water on for everyone.
North Carolina
In March, Governor Roy Cooper recognized the importance of ensuring household access to utility services in order to protect public health, safety and economic security as some people were shifting to working from home while others were laid off.
But the statewide moratorium on utility disconnections set in place by Gov. Cooper expired at the beginning of Fall. There are now only limited policies in place, despite the sharp increase in Covid infections and deaths, and colder temperatures setting in, including:
Debt Repayment: Customers are responsible for paying their debt, though utilities are encouraged to accommodate customer financial situations. Electric cooperatives and municipal utilities must offer a minimum of six months for customers to pay off their past due amount, while Duke Energy and Dominion Energy must offer a minimum of 12 months.
Disconnections: Customer disconnections for unpaid bills were allowed to resume this fall, however utilities may voluntarily continue their own disconnection moratorium if desired.
Late Fees: A policy against late fees was extended through the end of the year for munis and co-ops, and through the end of the State of Emergency for Duke and Dominion. Utilities cannot report customers that have set up an established repayment plan to credit reporting agencies.
>>

TAKE ACTION

Tell Gov. Cooper to reinstate the utility shutoffs moratorium.

Electric, gas and water utilities should not be shutting off critical services for customers during the Covid crisis, especially as winter utility bills are increasing.
NEXT STEPS
Struggling to afford your bills or have utility bill debt due to the pandemic? Contact your local utility and/or Department of Social Services to ask about financial assistance that may be available to you.
Tennessee
There is currently no comprehensive policy in place to protect Tennessee residents from losing their electricity or to fairly address overdue bills during the Covid-19 pandemic.
While many municipal utilities and electric cooperatives self-imposed shutoff moratoriums in the early months of the pandemic, all but one of Tennessee's public distributor utilities have resumed shutoffs.
As utility bills mount for Tennesseans hit the hardest by Covid-19, thousands of residents are trying to figure out what they will do to keep their power on. The Tennessee Valley Authority offered local power companies and community groups some early assistance to address these bills, but no comprehensive debt forgiveness or utility debt repayment standard is in place for Tennessee utilities. Individuals looking for repayment plans or assistance with their bills should check with their local utility first and then contact their community action center or local service agency for support.
>>

TAKE ACTION

Tell President-elect Biden to issue an executive order for TVA

Tennessee Valley Authority, which regulates our local power companies, should mandate a moratorium on electricity shutoffs in the Tennessee Valley.
Virginia
Utilities in Virginia are now subject to a moratorium on shutoffs and are also required to establish bill debt repayment plans. Virginia utilities are even eligible to apply relief funds from the federal CARES Act to customer debts. But customers could still lose electric services at some point during the Covid crisis. Virginia utilities can be exempted from the shutoff moratorium if they can prove that the amount of unpaid bills is greater than a certain percentage of their operating revenues.
Learn more about the policies in place now:
A Shutoff Moratorium for customers of Virginia's electric, gas, water, and sewer utilities. This moratorium protects these households from having their water, electricity or gas shut off due to unpaid bills from now until at least 60 days after the declared State of Emergency in Virginia ends. However, utilities are still allowed to seek an exemption from the ban on utility disconnections!
An Emergency Debt Repayment Plan for customers of electric, gas, water, and sewer utilities. These utilities are now required to offer repayment plansThese plans are designed to help people get back on their feet! Your utility is prohibited from including:
– interest or disconnection-related penalties;
– fees beyond your existing debt;
– any eligibility criteria.
Your utility is also required to offer the repayment plan over 6 – 24 months, and to verify (with you, the customer!) that it's a sustainable repayment plan for your household. to customers who are more than 30 days behind on their bills.
Debt Forgiveness for customers of all utilities in Virginia. Roughly $100 million in CARES Act fundingThis CARES Act money is currently being distributed, and should be available in early- to mid-December. has been directed to utilities to resolve customer accounts with overdue bills. However, utilities that receive an exemption from the shutoff moratorium are not eligible to receive assistance from the CARES Act. Dominion Energy is also required to forgive customer balances that were more than 30 days behind as of September 30, 2020.
>>

TAKE ACTION

Ask Virginia officials to strengthen shutoff protections

Thank Governor Northam for his work to stop utility shutoffs so far, and ask him to require all utilities to adhere to the shutoff moratorium for the duration of the state of emergency. Virginia should not allow exemptions to the moratorium for ANY utility for ANY reason!
NEXT STEPS
If you are struggling to pay your utility bills, ask your utility about setting up your Emergency Debt Repayment Plan.
Check to see when CARES Act funds will be available, and whether your utility can apply that money directly to reduce your debt.