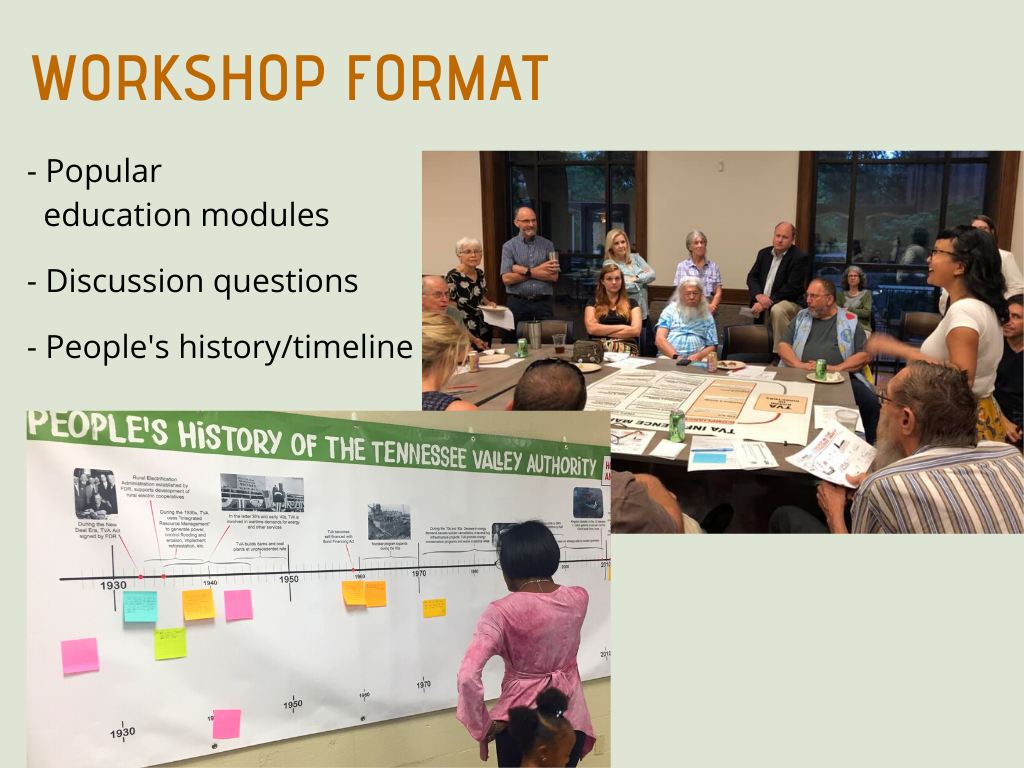 Tennessee Valley Energy Democracy Tour: Results
The 2019 Tennessee Valley Energy Democracy Tour was a workshop series developed by Appalachian Voices, Science for the People, and Statewide Organizing for Community eMpowerment, that partnered with dozens of other groups to collect feedback from communities across the Tennessee Valley Authority service area.
These are the thirteen communities we visited:
Memphis, TN – Nashville, TN – Knoxville, TN – LaFollette, TN- Chattanooga, TN – Huntsville, AL – Rogersville, TN – Bowling Green, KY – Tazewell, TN – Crossville, TN – Clarksville, TN – Claxton, TN – Clairfield, TN
The feedback we collected generated a powerful, grassroots vision for our energy future in the Tennessee Valley. Those results and more background on the Tour can be found in the graphics below.
To ground the feedback conversations, we began these workshops with an overview of our energy system, an activity around influence and TVA decision making, and a section on the history and impacts of TVA.
Because this was ultimately a listening project, we centered a popular education approach by incorporating activities that aimed to draw out the knowledge and expertise of the participants in the room and inspire a personal connection with the content.
One of the ways we facilitated this personal connection was by asking participants to add their experiences to a "People's History of TVA" timeline.

The three main questions that we asked communities during the Tour were:
1. What do you want for your energy future?
When we asked participants this question, we asked them to dream big and envision an ideal energy future for their communities. The results of that discussion generated a vision for our energy future that looks vastly different from our current system.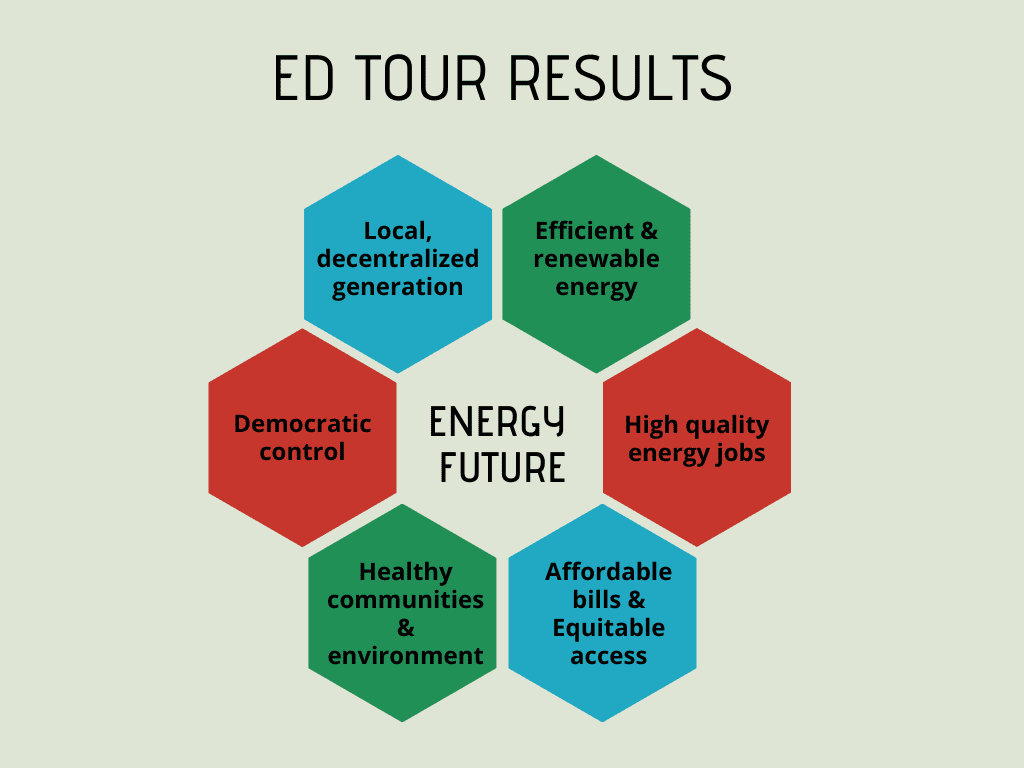 Communities in the Tennessee Valley want our public power system to have:
Local, decentralized generation: This was a huge priority. Participants want to be able to generate their own energy, community solar and for LPCs to be able to produce more local energy. Right now, most local power companies in the TVA system are capped at producing only 3-5% of their own energy for the next 20 years.
Efficient, renewable energy: Many of the Tour participants wanted a future with new fossil fuels, but instead 100% clean and renewable energy. Energy efficiency was also a big priority for participants.
Democratic control: Communities in the Valley repeatedly said that they don't just want input, but a real role in decision-making. We dug further into this question of democratic control in the results below.
High quality energy jobs: Skilled, high-paying, clean (green) and safe jobs were a topic of conversation at nearly every tour stop.
Affordable bills/equitable access: There was a lot of concern about affordability during the energy democracy tour. We heard several conversations about energy as a human right, no power shut-offs for inability to pay monthly bills, and programs that would make bills more affordable, like residential energy efficiency. Equitable access to energy resources like solar was also a big topic of conversation.
Healthy communities and environment: People want an energy future that prioritizes health, not just for the environment, but for workers and communities as well. People and environment over profit was a common theme, and many participants expressed that TVA seems to only prioritize the bottom line.
2. What needs to change to reach that energy future?
We broke down the responses to this question into four main categories: utility business model, technology and infrastructure, governance and relationships. We added one or two additional ideas to the "pathways to change" in order to round out the ideas generated by tour stop participants.
3. How else should TVA involve communities in the decision-making process?
Another way to consider this question might be, what would a democratic governance structure look like at TVA?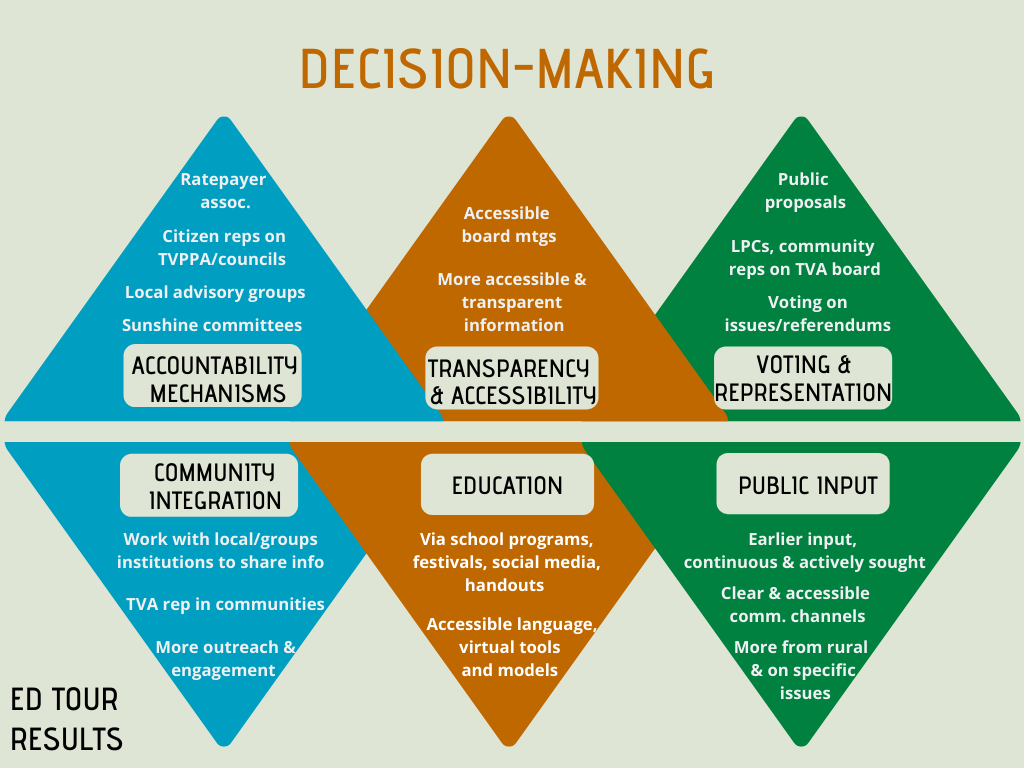 The results of this discussion communicate a vision for a much more participatory form of governance at TVA. Communities and ratepayers want better representation and more input on decisions. They also want TVA and local power companies to work with community leaders to get information and public input notices out to residents, and they want TVA representatives to be present in their communities. Education and information must be transparent and accessible, and TVA should be accountable for its actions.
ADDITIONAL TENNESSEE VALLEY ENERGY DEMOCRACY RESOURCES